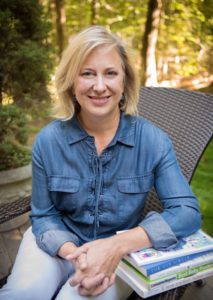 Born in Nebraska, Sandra Gordon grew up fixing fence, digging post holes and shoveling manure on the cattle ranch on which she was raised. But the rural life was only her parents' dream. In truth, the farm gene, which had been in Sandra's family for generations, seemed to have skipped her. So she spent lots of time in the kitchen cooking and baking, which, she discovered, would temporarily absolve her of outside duties. She also sought refuge through magazines like SEVENTEEN, which would later pave her escape.
Flash forward. At 19, while Sandra was a sophomore in college, she spent the summer working as an intern with Walt Disney World's college program and living in a place called Snow White Village. She wrote about her experience, which was quickly published in SEVENTEEN. After graduating from the University of Nebraska and spending an obligatory year in law school, Sandra, armed with her SEVENTEEN clip and a BA in English, made her break for the big city and landed her first job as an assistant food and nutrition editor at GLAMOUR.
Sandra's writing career continued with positions in the marketing department of major New York City health plan before her attention turned to writing books and freelancing fulltime as a health journalist for consumer magazines.
Today, Gordon is an award-winning journalist, specializing in medicine, health, food, nutrition and lifestyle topics. Her expertise includes deciphering studies, conceiving content ideas, interviewing physicians, researchers, patients and others, and turning it into compelling and trusted content for publications and brands.
A seasoned pro, Sandra focuses on writing custom and editorial content for hospital newsletters, health plans, supermarkets, brands and publishers. Her clients include, among others:
Custom Content
American Heart Association
American Society of Anesthesiologists
American Society of Health-System Pharmacists
Bed Bath and Beyond
Bankrate
Blue Cross Blue Shield
Celebrations.com, the website for Harry & David
Costco's Healthy Living
CHI Health St. Francis
CHI Memorial
Fauquier Health Hospital
Go Daddy–Garage blog for small businesses
Harvard Medical School
Health Alliance of the Hudson Valley
H-E-B
Henry Ford West Bloomfield Hospital
Holy Redeemer Hospital
Jeanes Hospital
Lehigh Valley Health Network
McLaren Health Care
Meijer Healthy Living
North Shore LIJ Health System
info, the blog for Overstock.com
Perrigo/storebrandinfantformula.com
Saint Elizabeth's Regional Medical Center
VA Health Care System
USA+
USA Today's Pet Guideand Diagnosis: Diabetes
Content Marketing Agencies
Ebyline
EmpoweHER
Masthead Media
Meredith Xcelerated Marketing
Shift Communications
Skyword
Print and online magazines
American Baby
Cooking Light
Family Circle
Fit Pregnancy
Ladies' Home Journal
Parents
Parents Expecting
Prevention
Redbook
Self
Shape
Southwest
Woman's Day
USA Today's Diagnosis: Diabetes
Your Teen
Blogs
Babyproductsmom–Sandra's niche blog, which helps new parents gear up safely and for less.
Websites
Better Medicine
Bankrate
Care.com
Healthgrades
New York Observer
WebMD
Books
Consumer Reports Best Baby Products (8th, 9th and 10th editions)
Heart to Heart: Personal Lessons on Preventing Heart Disease
Save a Bundle: 50+ Ways to Save Big on Baby Gear
The 30 Secrets of the World's Healthiest Cuisines
TV
Gordon has appeared on INSIDE EDITIONTHE TODAY SHOW and The Discovery Channel's MAKE ROOM FOR BABY as a baby safety and as a money-saving expert on satellite media tours on news programs across the country.
Want to work with Sandra? Contact her at sandra@sandrajgordon.com.
Save
Save
Save
Save
Save